Are You Drowning In Messages?
Let us reply to and manage your email and social media messages so you can get back to what matters most
We're the email concierge service you never knew you needed. 
First, we carefully select American-based, college-educated, top-of-their-class communicators. Then we train them to become email optimization wizards, ready to take on even the most demanding inboxes.
Your dedicated Inbox Manager will custom-build and operate a system to filter, reply to and follow up on your emails, based 100% on your preferences.
Our Inbox Managers have completed rigorous security and privacy trainings and are ready to handle one (or all) of the inboxes in your company, including email and social media messages.
What Our Clients Are Saying About InboxDone
Email Was My To-Do List
Not Anymore!
"I used email as a to-do list, a way to organize undone action items. Now that we have InboxDone support, it is much more streamlined and I feel like the inbox is being taken care of."
Christie Pitts, General partner, BackstageCapital.com
I've Regained 2.5 Hours A Day
"People Are Jealous! I check my email once a week. I went from 10+ hours (doing email per week) to maybe a half an hour. It's been amazing."
Justin Brooke, AdSkills.com
You've Got To Take This Step
"Just the weight off my shoulders is amazing. It's hugely important for my sanity. If you really want to grow your business, you have to do this."

Kathy Broady, DiscussingDissociation.com
The Right Solution For Me
"We were overloaded with incoming queries. InboxDone had the right solution at the right time."
Marcus van Enk, Kontrol4.com
Book a Discovery Call with us so we can learn more about what you do, answer any questions you have and see if our service would be a good fit.
Once you decide to work with us, you are matched with a dedicated Inbox Manager who will work with you to optimize your email management and reply to emails for you.
We go to work managing your email. You go to work on what matters most to you.
Due to the personalized nature of our dedicated service, we only have
space to take on up to four new clients per month.
Our co-founder Yaro Starak was recently a guest on the Eventual Millionaire Podcast hosted by Jaime Masters, where he explained how you too can break free from email. Press play to listen.

Whether you have 100, 1,000 or even 10,000 emails sitting in your email software, we will get your inbox done (to zero!).
Your Inbox Manager will build a tailored system based on the kind of emails you receive and what you want done with them.
OUR SERVICE MAKES YOU MONEY
Do you have a prospect follow-up system? We can custom build and implement one for you, then you just watch the sales come in.
NEVER WORRY ABOUT YOUR EMAIL AGAIN
Checking your email multiple times per day is a waste of your precious time. Let us check for you (up to 2x day) so you can check-in whenever you feel like it... or never at all!
ENGLISH IS OUR FIRST LANGUAGE
Your dedicated Inbox Manager speaks and writes English as their first language and is specially trained to match your specific brand voice, style and tone.
YOUR PRIVACY MATTERS TO US
Inviting someone into your inbox requires a high degree of trust. We use secure password sharing software and VPNs to protect your data at all time. We can also sign any NDAs you provide.
YOU DECIDE HOW MUCH WE DO
Want us to simply filter and file your emails so you only see high priority items? We can. Want a weekly roundup of everything that took place in your inbox? We can do that too. Or we can take over all replies and build dynamic systems to handle everything for you. How much we do is entirely up to you.
Successful people have assistants. It is widely accepted that top-performing professionals will not answer their own email, as they are off creating and building better things. Your Inbox Manager will learn to respond as well as you (if not better) and will become your biggest proponent and advocate when answering emails.
Successful people respond fast. Instead of letting your email inquiries sit in your inbox for days (or weeks, or months), your dedicated Inbox Manager will take care of your email 2x each day so that nothing ever falls through the cracks. Speedy responses equate to more sales.
How many times have you told yourself you need more systems? Our Inbox Managers act as virtual COOs, building tailored processes to optimize and systemize responses to your most commonly-received emails. 
CREATE TIME, REDUCE STRESS
Email is usually the last thing busy professionals will outsource. Once you realize how much more time you have, and how less stressed you feel, you will be laughing at yourself for not delegating your email sooner.
With email taken off your plate, what could you do instead? Create new products, write a book, build a new business, spend time with your family, travel the world?
MORE THAN JUST A VIRTUAL ASSISTANT
We are not just another virtual assistant agency. We do only one thing —email. Our Inbox Managers are specially selected for their superior communication skills, emotional intelligence, marketing savvy and ability to pinpoint what emails lead to stronger relationships and higher revenue.
WE DO NOT HIRE CHEAP LABOR
Hiring overseas contractors at $5/hour might sound appealing, but we know that for something as important as your email, it's not going to work. We only hire the best and we pay our people well.
WORK WITH THE SAME PERSON
We're not another faceless agency where you're not exactly sure who is working for you. Your Inbox Manager is the same person who will check your email each day, who you can always communicate with directly.
WE INSTANTLY GIVE YOU A TEAM
Are you still working solo? Isn't it time you got help? Start with us to build a true 'virtual team' so you can taste what it means to own a business, and stop being a do-everything-yourself entrepreneur.
SELL YOUR BUSINESS FOR MORE
Businesses that run themselves are much more attractive targets for a buyout or acquisition. If you're thinking of selling, hire us to take over email and instantly increase the value of your business.
WE ARE YOUR CUSTOMER SERVICE DEPT.
Do you get a lot of emails from customers asking for help with your websites, products or services? Let us become your full-service customer service department via email.

Trust And Communication Come First
You don't want to hand over something as personal and important as your inbox to just anybody, especially when each email is a direct representation of your business.
Unlike generic virtual assistant agencies, we are incredibly picky about who we hire and how we hire.
Our Inbox Managers go through six rounds of extensive vetting and evaluation before they begin training with us and their work is continually monitored through check-ins and evaluations.
Letting someone into your inbox is a huge step, which is why we move forward at whatever pace you feel comfortable with.
Since our Inbox Managers are a direct representation of our company (and of yours), we invest extensive time into recruiting high-quality candidates who operate from a foundation of integrity.
Hiring is hard! When you work with us, you don't have to wade through hundreds of applications in an attempt to find the best person — we've done this for you.
All of our Inbox Managers have English as a first language, an extensive writing background and above average emotional intelligence. Our managers learn to respond and to think like you.
Unlike virtual assistant agencies, we do not hand over your email to $5/hour overseas contractors who have limited writing ability. We carefully attend to each of your emails as if they were our own.
Meet a Few of Our Inbox Managers
With a B.A. in Spanish (and a concentration in English), Alex has spent most of his professional career researching, writing and teaching. He has worked as a Content Contributor for leading digital media companies throughout Latin America. Alex has also worked as a Copywriter for years, and teaches English as a second language to all ages and levels. His cross-cultural experience has cultivated a depth of respectful and empathetic communication for every demographic of customer, allowing him to easily adapt his writing to any audience or brand voice. He currently lives in Buenos Aires where he fluently communicates in multiple languages.
With a B.S. in Communication (and a concentration in Interpersonal Communication), Carly has spent most of her professional career in journalism. She's worn a variety of hats in the service of small businesses, including Reporter, Project Manager, Content Creator and Customer Service Representative (via email, phone and FB Messenger). Carly recognizes the importance of courteous, clear and patient communication. She enjoys implementing new systems and streamlining them to perfection. Her dynamic background allows her to identify client's unique needs and effectively provide the specific answers that solve their pain points. Carly joined the InboxDone team in early 2018 and is currently based in Warsaw, NY. Outside of work, she's the parent of three rescued pit bulls and is finishing her first novel.
Julia is a marketing strategist with extensive experience in direct sales and account management. Her expertise extends to sales funnel design and execution of different retention models (depending on the client's desired outcomes). Julia joined the InboxDone team in 2019. Since she thrives both independently and collaboratively, she is able to apply her strategic perspective to a variety of inboxes and tailor her expertise to each client's unique offering. Based in Toronto, Julia also brings her passion for the arts to her position and has worked in film and television with credentials including Paramount Pictures and Universal Studios.
With his extensive professional background as a Sales Manager and Firefighter Paramedic, Kevin brings a unique perspective to InboxDone. Since his writing experience ranges from marketing emails to research-heavy theses, Kevin can easily adapt to any writing style and brand voice. His sales background allows him to quickly build rapport, close high-level deals via email, cultivate strong client relationships and nurture these over the longterm. Born and raised in Chicago, Kevin joined the InboxDone team in early 2018. He's currently based in San Diego, CA and fully takes advantage of his remote lifestyle through frequent road trips.
Sarah is a customer service rockstar, with a diverse marketing, design and organizational background. She is truly passionate about exceeding client expectations and creating personal connections with outstanding communication skills and exceptional customer focus. Sarah brings a unique understanding of the challenges facing entrepreneurs, having run her own thriving design business in the wedding industry for eight years. Sarah joined the InboxDone team in early 2020 and is based in Ontario, Canada. When she's not representing and advocating for her clients inside the inbox, you can find her traveling, color-coding everything, or spending time with her menagerie of pets (5 cats, 1 dog, 1 husband, 2 kids and a hedgehog). 
With a B.A. in Business & Marketing, an M.A. in Adult Education & Training and an M.A. in Psychology, Jessica has a strong eye for detail when it comes to the written word. Her years of experience in business coaching and digital marketing means she's helped countless clients craft their perfect customer experience inside the inbox and derives the most fulfillment from helping others succeed. Jessica also has extensive customer service experience working with large corporations and small businesses (via email, phone, Facebook and Instagram). Because of her incredibly diverse background, she can easily adapt to any client's voice and style. Jessica joined the InboxDone team in early 2019 and is based in Phoenix, AZ. In contrast to traditional office hours, Jessica loves how remote work allows her to spend more time with her husband and son on a daily basis.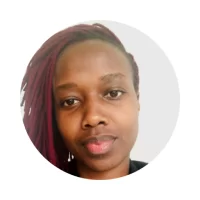 After earning a B.A. in Economics and Statistics, Bosi's obsession with words led her to a career in content creation and communication management. Bosi has written sales content for clients around the world by building remote relationships (with a focus on digital marketing). Her extensive experience working for clients in a range of industries allows her to adapt her voice and style to match any client's unique brand and messaging. Bosi joined the InboxDone team in 2019 and is based in beautiful Kenya. When she's not making magic happen inside a client's inbox, you'll find her head buried in a book, or writing the next crazy story her mind has conjured up.
After earning his master's in English and Creative Writing, Jeff began tutoring English to a wide range of secondary students. His years of teaching communication, combined with his leadership positions in several managerial roles, have provided him with the ability to reach any inbox goal by applying creative solutions. Jeff's skills in the inbox include attentiveness to the nuance of customer relationships, superior written communication filled with empathy and professionalism, the ability to match any brand voice and writing style, and an insane attention to detail that ensures nothing ever falls through the cracks. Jeff lives in beautiful Asheville, NC and loves hiking, movies and trying as many local beers as possible. 
Our monthly fee for email management depends on how busy your inbox is and how much you want us to do.
Whether you want us to simply filter and file your emails, or completely take over and become your customer service/sales department, the cost is based on how much time we dedicate to your inbox each month.
Current InboxDone clients pay between $495 and $4,995 (USD) per month to have one or multiple inboxes completely managed.
Due to the personalized nature of our boutique service, we can only take on a small cap of clients each month. As such, we only select the very best applicants who are best suited to benefit from our help.
Your time is your most valuable asset, one that you can never get back. Once you consider all the hours you currently spend on email, and what that time could be used for instead, the return on your investment is clear.
By taking over your prospect follow-ups for you (where we send personalized follow-up emails that turn into sales), our service often ends up paying for itself — and can even make you money.
Because we carefully tailor our service to each person's industry and unique needs, we intentionally take on no more than three new clients each month.
Click here to book a Discovery Call. We'll learn more about who you are, what customers you serve and answer any questions you have to see if our service would be a good fit.
Book A Discovery Call Now To Discuss Your Needs
Enter your name and email into the form to book your discovery call, then choose a day and time for the call on the following page.