The purpose of this article is to share with you the top 10 tasks that a virtual assistant can do for you, based on our experience working with clients from all kinds of different industries.
Use these ideas to expand the tasks you delegate to your current assistant, or when factoring in how much an executive virtual assistant could potentially help you do when you are hire one.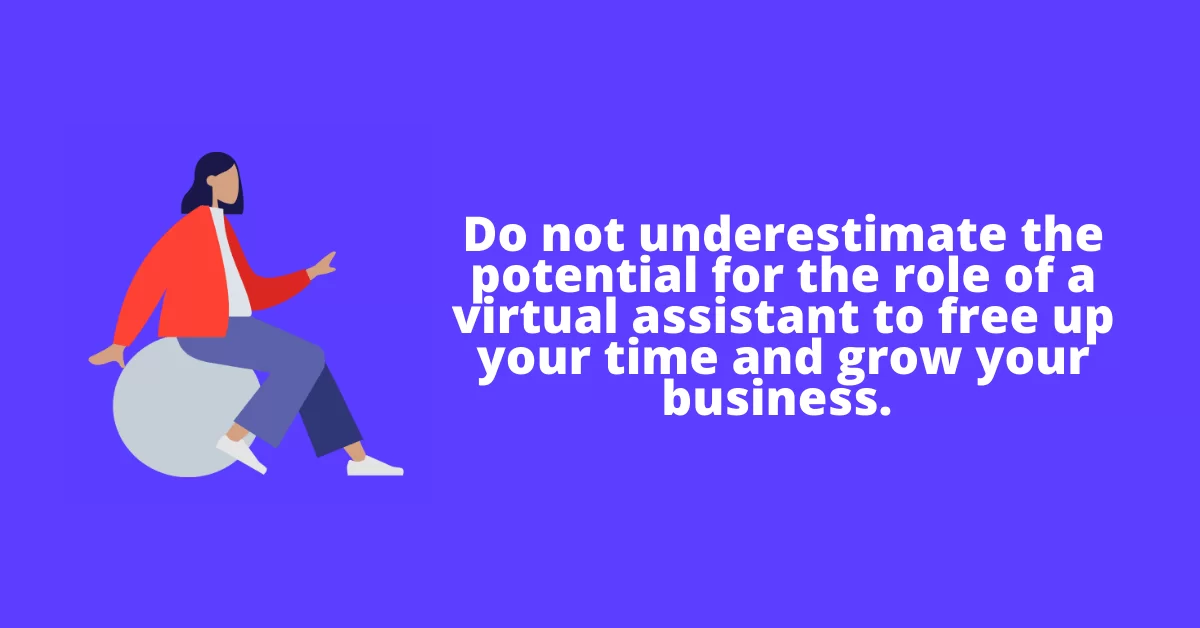 It's just plain smart to bring in a virtual assistant and buy you more time to focus on your business, yet many entrepreneurs and small business owners put this off, because they are not sure what tasks to delegate. 
As a team of dedicated inbox managers, we handle email communication flow for our clients. But, we also handle content creation, customer service, social media, and more. 
In this guide, we're going to share:
Basic tasks you should outsource to a general virtual assistant
More advanced tasks that can be handed off to an executive virtual assistant 
How the role of a virtual assistant has evolved, and why it's important to know exactly what you are looking for
How to get started if you are new to virtual assistants
Virtual Assistant Is The Job Everyone Wants
Virtual assistants are having a moment.
The newest generation to enter the workforce - Gen Z, or zoomers, as they are fondly known - has entered into one of the most uncertain economic landscapes in history due to COVID-19, many of them questioning whether higher education will provide them with the security they seek. 
Alongside them in this pursuit are millennials, who have always valued financial freedom.
As a result, this digitally literate population has discovered the value in the role of a virtual assistant - work anywhere, anytime, with uncapped earning potential and no degree required. 
Those who have found tremendous success in the role have taken to sites like TikTok and YouTube to share where they find their gigs and how they managed their success - with viral results.
The popularity of the virtual assistant role is a good thing for employers. It means they are more accessible than ever and you will have options. 
But on the flipside of this accessibility is the risk of an over-saturated and under-qualified candidate pool. 
If you want to learn about hiring, we've written about how to sort through the pool of candidates to find the perfect fit for your business. 
But here, we're going to focus on why it's so important to define exactly what you are looking for in a virtual assistant.
Let's start by looking at more basic tasks you can assign to a virtual assistant. You can also use these kinds of tasks to 'test' a new virtual assistant before handing over more responsibility.
Basic Tasks Your Virtual Assistant Can Do For You
Task #1: Managing Your Calendar, Meetings and Appointments
If you've ever attempted to calculate how much time you spend coordinating your calendar and appointments, chasing down individuals you need to meet with and following up on meetings, then you will surely appreciate someone handling this for you. 
In addition to managing your calendar, your virtual assistant can:
Confirm appointments
Provide reminders for you and your clients about upcoming appointments
Reschedule cancelled appointments
Provide schedule updates to you and significant others
Act as a gatekeeper for your time by rejecting meeting requests
This alone can save you about 10 hours a week. 
The key is to give your assistant rules about when and who. 
Keep in mind before you delegate: 
Make sure you are using your calendar! (Seems basic, but it can be a tough habit for those who don't already.)
Make sure you have the ability to give someone else access to your calendar (Google Calendar has this capability. There are other options such as Calendly  that work well for intense scheduling needs.)
Give the virtual assistant a list of appointments to confirm - either a day, week or month's worth, depending on the intensity of your calendar. 
Your virtual assistant can call or text you a few minutes before your meetings to ensure you don't forget - if this is an expectation, make it clear.
When your schedule changes, provide notice to your virtual assistant. Your virtual assistant can also provide notice to the other party and get the rescheduled time confirmed.
Virtual assistants can send you a list of people that have not responded to requests for setting up a meeting or a call - they can also follow up with these individuals so you don't have to spend time chasing them down.
Task #2: Booking Travel Arrangements
Travel arrangements - whether for business or pleasure - eats up more time than you realize. Here is what you can expect a virtual assistant to take on in this realm: 
Research and book flights, trains, cars, hotels, and AirBNBs
Arrange for events during travel
Suspend mail or communication while you are traveling
Keep in mind before you delegate: 
Provide your virtual assistant with information like frequent flyer numbers and airline credit cards. 
Try to outline as much of your schedule as you can while you'll be traveling so your virtual assistant can arrange transportation, reservations, or anything else you might need planned ahead of time. 
Task #3: Basic Data Entry
Just because you are not in a physical office with an administrative assistant within earshot doesn't mean you can't delegate those types of tasks. Imagine the time you would save by delegating tasks to your virtual assistant such as:
Fill out online forms
Take notes from meetings or webinars
Convert files
Set up projects in your project management system
Handle file management
Keep in mind before you delegate: 
Alert your virtual assistant to software you are in need of so they can research vendors and fill out demo requests. 
Maintain or secure a project management system so that your virtual assistant can jump right into the systems you have in place.
Even if you start with a few folders, it will help your virtual assistant better learn the operation and organization standards you prefer as they manage and organize your files. 
Task #4: Manage Your Basic Finances
There are plenty of basic finances you can delegate away without running any kind of security risk. Here are a few: 
Review and match transactions and handle monthly reconciliations
Create and send invoices
Chase down payments
Pay bills
Keep in mind before you delegate: 
Be sure you have templates for invoices that your virtual assistant has access to.
Every business needs an accounts receivable strategy in place - should your virtual assistant need to, they can turn to these procedures to chase down late or lost payments. 
What recurring expenses - whether for software or general overhead - do you expend energy monitoring? This can be handed off to a virtual assistant. Most vendors will allow you to set up payment information to be saved for future use so the information doesn't have to be entered every time. 
Task #5: Handle Customer Service Requests
This one is relatively straightforward. Although it can be intimidating to outsource customer service, it will save you a great deal of time and headspace. 
The most common customer support requests we see come through are:
Password retrieval
Setting up a new password
Trouble logging in
Technical assistance
Setting up a profile
Your virtual assistant can be trained to handle these types of common requests and address them before they even come across your screen. 
Advanced Tasks Virtual Assistants Can Do For You
At InboxDone.com we specialize in email management for busy entrepreneurs who want to get their time back.
However, as our inbox managers build trust with our clients, they begin to take on more of the business.
Here are some examples of more advanced tasks that are inbox managers have mastered, and that you should consider as you decide what to delegate. 
Task #6: Respond To All Emails
Email is often the last thing busy professionals outsource. 
Your inbox is likely the command center of your business. It can be a scary thing to entrust to someone other than you. 
It requires a deeper understanding of your business, the ability to be emotionally and mentally agile in shifting tone of voice and focus, and a sense of professionalism that can be hard to find in this line of work. 
But, once you find the right person, you can reclaim even more of your time by handing off the following to a virtual assistant: 
Respond to messages for you or as you (or a mix of both, depending on the situation)
Study your past responses in your inbox to gather information/context and replicate your writing style 
Go through hundreds of emails (and social media messages) to look for patterns and create a database of your replies, centered on the most commonly asked questions and comments
Adopt your voice and personality as their own so they can be your extension and representative for your clients/customers/coworkers
Filter all inquiries you receive (guest posts, link exchanges, joint ventures, contributions to your blog) and either accept or decline politely, based on your parameters, allowing you to focus on current projects while keeping the door open in case you change your mind
You shouldn't have to check your inbox again (if you don't want to)
Task #7: Social Media Management
Your social media accounts are one of the first impressions your prospective customers will encounter in their research of you and your product. As a result, you should be cautious to hand this off to just anyone. 
Once you find someone you can trust, however, you can hand off tasks like: 
Scheduling posts using platforms like Hootsuite
Replying to social media comments, feedback and questions (and remove anything problematic)
Strengthening your presence on your pages to increase sales, grow your following, and demonstrate your devotion to your business and customers
When customers leave comments or feedback on your pages, they should respond with either thanks or solutions to problems
Task #8: Content Creation
If part of your "wearing many hats" involves content creation, then you understand how time consuming the process can be. Ideation, execution and distribution takes hours and in a way, can be an ongoing project as you continue to find ways to promote your content in a way that grows your business. 
An advanced virtual assistant should be able to create content that accurately reflects and adds value to the lives of your audience. Here are some examples of what you can outsource: 
Social Media Content: Create and schedule 3-5 posts per week based on what performs well on your pages, what adds value to your audience and what will ultimately draw your followers back to your website.
Newsletters:  An advanced virtual assistant can create newsletters from pre-written content, or write from scratch if given clear parameters. If you don't already have a newsletter, they should be able to design it for you. A newsletter can help you establish a continuous channel of communication for future promotions, products or in-depth discussions with your clients or partners. 
Website Content: If your products or services change, if you add a team member, if you need to add a case study - an advanced virtual assistant should be able to easily access and be fluent in the backend of your website. 
Case Studies: Being that your virtual assistant will become familiar with your clients, an advanced candidate will be able to initiate conversations that will lead to testimonials and case studies demonstrating the value of your product or service. 
Task #9: Systematize Your Business
Maybe you have always wanted standard operating procedures for every facet of your business, but have never had time to put them in place. An advanced virtual assistant will have an entirely objective perspective on your business and should be able to execute this efficiently.
You can assign tasks like: 
Create SOPs for themselves, clients, and other members of your team based on what you assign as best practices, or what they observe over time
Creating a list of "rules" for how to respond to each of your emails (delete, archive, forward, respond, file, add to calendar, etc.)
Create a library of templates that can be used to answer questions in your inbox (always personalize templates, never send them out cold)
Develop a system for you to manage their work and always stay in the loop (these can be daily recaps, weekly recaps, FYI list, or an audio message listing items that still need your attention)
Create a "Cheat Sheet" which houses all your important links (categorized)
Create your FAQ database for any incoming questions from customers
Task #10: Increase Your Sales
You might be thinking - "I am not looking to hire a business development rep. All I want is an assistant." 
Think about the hands on experience that your virtual assistant will gain innately and ask yourself - if given the proper training - is there anyone else who could get so much face time with your business?
Take advantage of the knowledge this individual will have, simply by doing their job, and capitalize on it.
You can assign tasks like: 
Conduct Discovery Calls: Your virtual assistant should be able to field calls from interested prospects and be able to qualify the prospect based on their needs, or dismiss the prospect based on a mismatch. 
Follow Up With Leads: Keeping track of who received a demo, and how often to follow up, and at what cadence, can be a full time job on its own. Your virtual assistant should be able to handle this for you by keeping an organized database of what stage your prospects are in and conduct friendly follow-ups to attempt to convert a sale.

Does This Sound Too Good To Be True?
The truth is, if executed well, many of the advanced tasks listed above will turn your virtual assistant into more of a business partner than assistant.
They will become your right hand and confidant. They'll anticipate your needs, allowing you more time to do what you have always wanted to.
If you are starting your search for a virtual assistant from square one, it may require trial and error.
Before you can save time with a virtual assistant, you'll need to invest time - a lot of time - vetting and training the individual who will fill this role. 
The candidates we have the most success with take between 4-8 weeks to find, onboard and train. They are also fluent in the most basic and the most advanced tasks outlined above. 
If you would like to skip over the recruitment and testing phase, we can help.
You can apply to work with one of our already vetted and top-of-their-class communicators. Book in a discovery call to see if you are a good fit to work with one of our assistants.
The sooner you bring in a trusted and efficient virtual assistant to take on what you are ready to delegate, the sooner you can focus on what matters most. 
Emily