There are hundreds of different email software tools, which makes for a confusing choice to figure out which one you need to solve a specific problem, or which is the best overall if you want a solid email platform for managing your day-to-day messaging needs.
In this article, our aim is to make it easier for you to choose the best-of-the-best when it comes to email software, plus help you determine which is the right tool for solving specific needs that commonly surface in a business.
We've compiled a list of ten software solutions that solve four different problems. If you'd like to skip to the problem you are trying to solve, use the links below.
We've researched functionality, cost and ease of use. We'll share user experiences to help you decide whether the software will solve the problem you are facing, and offer ideal use cases for each tier of the software. 
So, let's dive in. What do you want your software to help you do?
Consolidate Email Accounts Into One Place
It's become the norm to have more than one email account. Perhaps you are on a team and have a "work email" and a "personal email" and other email accounts for different parts of your business. You might even be holding on to your college email address.
This means checking your email is now a two to three-step process, checking one inbox at a time. 
Let's go through three different software platforms that solve this problem and create a "unified" inbox, from the simplest to the most comprehensive. 
Kiwi: Gmail and G-Suite Apps On Your Desktop
What Does it Do?
Kiwi makes G Suite apps work like a full-featured desktop productivity suite. It consolidates your Gmail accounts, along with the associated Google Docs, Google Sheets and Google Calendar, and turns them into an application that you can access from your desktop instead of your browser. 
What Can It Be Used With?
Kiwi can only be used with Gmail.
What Does it Cost?
Kiwi for Gmail initially installs as a 30-day trial of the premium edition, which enables you to work with up to six Google accounts and the full complement of G Suite apps. A full subscription costs $9.99 per year.
If you decide not to upgrade at the end of the trial period you'll be dropped back into the free tier, which means you can only use one Google account. You'll also be limited to working with Gmail and its associated tools: calendar and contacts.
What Are The Pros?
Because the application runs on your desktop instead of the web, your email window won't get lost in your tabs as you browse. You can keep it open and separate from your other tabs, with easy access to your multiple accounts at any time.
The interface is almost identical to Gmail, making it familiar and easy to use.
Because it functions as a desktop application, you can choose to receive new email notifications on your desktop as well.
This could easily become a distraction, but Kiwi includes a "Do Not Disturb" function which allows you full control over when you want to be notified of new emails. You can easily toggle between different Gmail accounts in the same window.
What Are The Cons?
Kiwi can only consolidate Google email accounts, you cannot bring in, for example, an Outlook or Yahoo email into Kiwi. The windows within Kiwi can become overwhelming. Kiwi does not offer the ability to group things into tabs. 
Who Would Benefit From Using Kiwi?
Kiwi is not necessarily a software meant for teams. It is meant to make the individual user's email experience more efficient. This would be a beneficial add-on for an individual who is responsible for multiple Gmail accounts, who doesn't need any additional integrations. It is the most straightforward and cost-efficient solution for this problem.
If you are looking to centralize all of your messaging – not just email – the next software might be the right choice for you. 
Mailbird: Sync Multiple Email Clients Into One Desktop Platform
What Does It Do?
Mailbird is a desktop application that syncs multiple email accounts into one platform.
What Can It Be Used With?
Unlike Kiwi, this application can sync Outlook, Gmail, and other clients to be used together on the same window. It also integrates with popular task and messaging apps like Slack, Dropbox, and social media platforms. 
What Does It Cost?
Mailbird has two versions: Personal and Business. 
The personal version costs $1.63/mo or $39.50 one time, and includes: 
Unlimited email accounts
App integrations
The business version costs $2.46/mo, and includes: 
Exchange support
Business apps
Priority support
Bulk order discount
What Are The Pros?
Mailbird differentiates itself by integrating other messaging apps, like WhatsApp (seen below), that can be utilized next to your inbox and at the same time. 
This feature makes Mailbird ideal for individuals or teams who manage multiple incoming messages on multiple platforms. 
In addition to messaging apps, users can also integrate productivity apps like Toggl and Todoist. 
Mailbird's interface is simple and clean, making everything easy to find and easy to use. It includes a snooze function that allows you to customize when you do, and do not want to receive emails. 
It takes only a few minutes to download and users can import their contacts on their own as well.
What are the Cons?
If you are a Gmail user, you cannot integrate your Google calendar into Mailbird. Users have also expressed frustration in the lack of basic features that the free version of Gmail includes. Some examples of this are the ability to drag and drop an email into a folder, or add another recipient when you are replying to a message. 
Who Would Benefit From Using Mailbird?
Mailbird is a good fit for individuals who have multiple email accounts and need access to other tools -such as messaging and productivity apps – in order to efficiently manage their inboxes. The functionality for email specifically, however, is limited.
If you are an inbox organization enthusiast and want to unify your accounts, you might find the next option – PostBox – to be the best fit.
PostBox: Manage And Triage Multiple Accounts From Your Desktop
What Does It Do?
PostBox is a desktop email application that allows you to triage and manage all your emails in one place. 
What Can It Be Used With?
It can be used with any email application. 
What Does It Cost?
You can purchase PostBox for $29 annually, or $49 for a lifetime license. 
What Are The Pros?
The PostBox user interface is fantastic. It's simple and clean. The main differentiator with PostBox, however, is their Quick Bar feature. For inbox zero enthusiasts, this feature will be particularly appealing.
Using keyboard shortcuts, users can add a label, move the message to a folder, switch to a different folder, or other common functions. There is a long list of PostBox features  designed for those who expect a high standard of organization in their inbox.
What Are The Cons?
The lack of integrations provided by the presets in PostBox can be frustrating. 
Who Would Benefit From Using PostBox?
We recommend PostBox for individuals who already have familiarity with advanced email functions but want to consolidate their accounts into one place.
Optimize Email For Outreach And Collaboration
The tools we'll discuss next will assist you or your team with outreach. These add-ons provide additional insights that come from email to optimize any touch you make with a prospect or client. 
Yesware: All-in-One Toolkit For Sales Professionals And Teams
What Does It Do?
Yesware is an email add-on built primarily for sales teams, but it can also be used by individuals. It is an email tracking software that provides built-in additional insights and workflows to your inbox. 
What Can It Be Used With?
It can be used with either Gmail or Outlook.
What Does It Cost?
Yesware has three tiers: Pro, Premium and Enterprise.
Pro: $15/mo billed annually or $19/mo billed monthly
Real-time email tracking
Presentation tracking and analytics
Personal templates and reports
Send later and reminders
Meeting Scheduler
Premium: $35/mo billed annually or $45/mo billed monthly
Pro features
Campaigns
Template sharing and reporting
Role-based permissions
Centralized billing
Enterprise: $65/mo billed annually or $85/mo billed monthly
Premium features
Salesforce Inbox sidebar
Bidirectional Salesforce sync
Email CRM Sync
Calendar CRM Sync
What Are The Pros?
Instead of purchasing an extensive suite of software like Hubspot, Yesware allows users to access email tracking insights, book meetings and create campaigns out of the inbox. 
"Knowing if someone has received an email, or re-opened it, is a truly valuable piece of information from a sales and support perspective. Email has become one of the least reliable forms of communication, but it remains essential to doing business," said one user. "So we used Yesware to see if our regular communications were being received and opened, in much the same was we use software to verify that our client newsletter communications are opened."
In addition to providing these straightforward insights, Yesware also tracks more advanced analytics over time. 
Yesware includes a built in meeting scheduler. Your calendar gets sent in the form of a link and any meetings that are scheduled are automatically added to your calendar.
Finally, Yesware also integrates with LinkedIn and SalesForce for teams who rely on prospecting.
What Are The Cons?
Some users have expressed frustration that Yesware does not integrate with smaller CRMs. It's common to see teams and individuals using Yesware solely for the email tracking functionality. 
Who Would Benefit From Using Yesware?
Yesware is most commonly recommended for teams who do a lot of prospecting, however it's useful for any team or individual who require email tracking. The ability to see when your email is opened, or your link is clicked, is valuable for any business owner. If the layers of your business are not so extensive that you need a CRM with extensive capability, Yesware is perfect. It doesn't require maintenance like large CRMs do, but provides you with the same valuable insights and tools.
Front: Combine Email, Apps And Teammates Into A Single View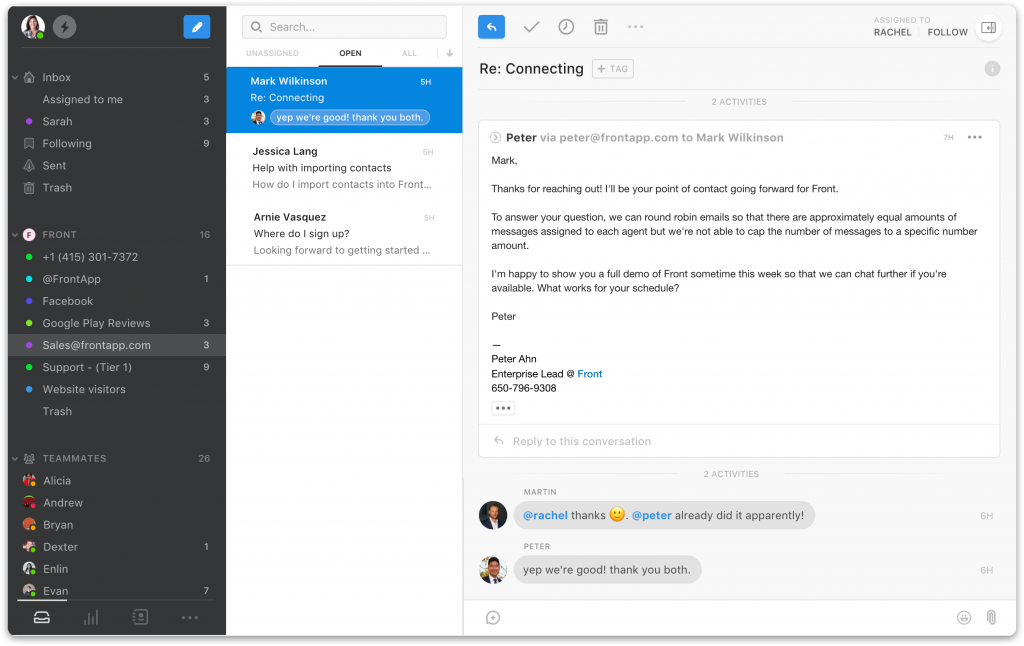 What Does It Do?
Front is a tool for your team to collaborate when delivering customer service. It achieves this by combining email, apps and teammates into a single view so that your team operates out of a "universal inbox."
What Can It Be Used With?
Any email or messaging application. 
What Does It Cost?
Front has four tiers: Starter, Plus, Prime and Enterprise.
Starter: $9/user/mo
Individual email inboxes
3 team channels included (1 email, 1 chat, 1 social)
Assign and @mention
3 basic rules
Plus: $24/user/mo
Everything in Starter
5 team channels included (email, social, or chat only)
Basic integrations
Unlimited basic rules
Prime: $49/user/mo
Everything in Plus
15 team channels included (all types)
All integrations and analytics
Advanced rules and SLAs
Enterprise: $79/user/mo
Everything in Prime
100 team channels included (all types)
Advanced admin controls
Shift scheduling
You can also customize your plans with add-ons. There are costs associated with add-ons. 
What Are The Pros?
Front is designed to aggregate internal and external conversations across a variety of channels. To the individual user, it looks like a singular inbox, but with access to shared workspaces, the communication that takes place is collaborative. In addition to email functionality, it has functionality similar to a project management tool. Users can "@" others for quick answers to questions and assign tasks through the client as well. 
What Are the Cons?
Once it's set up, it requires ongoing maintenance to ensure it doesn't become a mess of  mentions and to-do's. If you move forward with Front, you'll want to designate a facilitator to keep it clean and organized. 
Who Would Benefit From Using Front?
Front works well for businesses that serve clients with complex data points, such as professional services, logistics or advertising. It also works well if multiple teams need access to all these data points while delivering customer support.
Sortd: Transform Gmail Into A Visually Organized Workspace
What Does It Do?
Sortd is a project management tool for email. It is a visual workspace where emails can be dragged and dropped as tasks to be completed. 
What Can It Be Used With?
It can only be used with Gmail.
What Does It Cost?
Sortd has four plans: Free, Pro, Team and Sales. 
The free plan includes:
Gmail integration
Task management
3 lists, 20 tasks
Personal board
Snooze
Pro costs $6/user/mo and includes: 
Full Gmail Integration
Full Task Management
Unlimited lists
Unlimited tasks
Email Tracking (new)
Due Dates and reminders
Snooze emails
Date and Today View
Personal Board
Project Boards (3 private boards)
Team costs $8/user/mo and includes: 
Gmail Integration
Task Management
Team Sharing & Assignment
Unlimited lists
Unlimited tasks
Email Tracking
Due Dates and reminders
Snooze emails
Next step management
Personal Boards for your team
Unlimited Team Boards
Sales includes Team and costs $16/user/mo, including: 
Full Gmail Integration
Deal / Pipeline Management
Full Team Sharing & Assignment
Unlimited pipelines and lists
Unlimited deals, stages & tasks
Email Tracking
Business Contact Management
Sales Reports
Follow-ups & next steps
Snooze, due dates & reminders
Personal Boards for your team
Unlimited Team & Sales Boards
What Are the Pros?
Sortd turns emails into to-dos, which in theory, removes a layer from a typical workflow (turning an email into an action item on a project management board elsewhere.)
Once an email is dragged to its appropriate column, it can be renamed. It's essentially an alternative to creating labels and folders in your inbox – ideal for someone who is more visual in their conceptualization of a to-do list. 
You can drop a "task" onto another task to consolidate, but the UX does not allow for subtasks. You can also customize the column functionality for time-oriented organization (Today, tomorrow, soon) or team-oriented function (Sales, Marketing, HR.)
What Are the Cons?
Our research showed that some people are frustrated over a lack of features in Sortd, such as the inability to create subtasks or recurring tasks. Unlike Front, there is no way to communicate with others on the platform, for example, assign a task or ask a question. As a result, Sortd usually requires another project management tool layered on top of it.
In addition, some users express that Gmail already has this functionality built in with folders and labels, only it is visualized differently. 
Who Would Benefit From Using Sortd?
Sortd is ideal for individuals who manage multiple ongoing projects. Due to it's limited functionality to collaborate on the software, it is not a good fit for teams. 
If You Want To Try A Different Email Client
As we mentioned earlier, the basic concept of email hasn't changed much in the last 30 years. The two software tools below are looking to change that and "disrupt" the way individuals use email. 
Superhuman: "The Fastest Email Experience Ever Made"
What Does It Do?
Superhuman is an email client. They claim to be "the fastest email in the world" and also put a lot of focus on the aesthetic of the application. It also weaves social insights into your workflow. 
What Can It Be Used With?
Superhuman was built to operate on Macs and iPhones and integrates with Gmail inboxes. 
What Does It Cost?
Superhuman costs $30/mo and is "invite only" – meaning you'll either need to submit a request for access or be invited by someone who's already using the app. 
Should You Consider Switching?
Some user reviews call Superhuman "overhyped and overpriced." 
So what are the actual differences between Superhuman and Gmail?
Speed
Improvements to email speed is Superhuman's top-line item. 
Their website reads: 
"The creator of Gmail, Paul Buchheit, had a rule: every interaction should be faster than 100ms. Why? Because 100ms is the threshold where interactions feel instantaneous.
We've brought back the 100ms rule. Everything you do — start-up, search, sending mail — is blazingly fast."
This holds up by most users. It's not just the speed by which you send and receive emails. 
"The desktop experience is the platform's key differentiator, it's structured entirely around keyboard shortcuts and the app is constantly training you to move through your email more quickly," says one review.
Exclusivity
"It's the email app for the 1 percent of people who use email in a very particular way for very particular business purposes. It's built for the founders and CEOs and executives who are featured prominently on the company's site and who're willing to pay the price to be part of the VIP club," said former user Chain Gartenburg.
Another user even stated he felt "guilty" for cancelling after six months, due to the "white glove" service that the Superhuman team touts. 
The entire onboarding process is intended to make you feel as though you are gaining entry to a club – from the waitlist, to the survey you must fill out once you "get" entry, to the 30 minute onboarding call with a product expert. 
Other Features
In addition to speed and exclusivity, Superhuman also comes with a number of other features:
Read statuses for emails
Instant intro, which shunts unnecessary introductory email participants to BCC
The option to quickly undo an email you've sent
Prompts to archive, snooze or delete every email in your inbox
An "Important" tab that differentiates newsletters and mailing list emails, and only sucks in messages that were sent directly to you
Overall, based on the $30 price tag and the experiences of users, Superhuman is most suited for those who use email primarily for back and forth communication. It is not suited for teams or individuals who manage a high volume of outreach. 
If you want to experience a more modernized inbox without the high price tag, a more accessible option might be HEY.
HEY: Designed To Transform Email Into A More Enjoyable Experience
What Does It Do?
HEY is an email application that could replace your existing inboxes (if you wanted it to) from the creators of Basecamp.
What Can It Be Used With?
HEY is a standalone email client. 
What Does It Cost?
HEY has two versions: Personal or Business. 
Personal email costs $99/mo., and includes: 
A @HEY.com email address
Built-in workflows
Apps for every platform
Spy pixel blocking
100GB storage space
Guaranteed privacy
The business version of HEY is set to be released in Q1 of 2121. It costs $12/user/mo, and includes: 
Every feature from the personal plan
A custom domain
Thread sharing
Private team comments
Email aliases (i.e. support, billing)
Collections
Should You Consider Switching?
"If you find yourself chafing at the stagnation of Gmail and Outlook, or are just looking for a way to screen out most people who would ever send you a message, Hey is well worth considering," says user Casey Newton.
Hey's inbox  is separated into three main boxes. 
Things that need a response (Your "Imbox") – messages you don to be important
Receipts (Your "Paper Trail") – things like flight information, shipping notification, etc. 
Things you want to read (Your "Feed") – newsletters you can browse at your own leisure, essentially a personalized RSS feed
Nothing else is welcome, in keeping with the philosophy behind Hey – that your email should be a more sacred place.
Any first time sender who enters your inbox will automatically be assigned to one of these 3 boxes. All you have to do is click a "thumbs down" and the sender will never be able to enter your inbox again. 
Contrary to Superhuman, Hey doesn't subscribe to the "inbox zero" philosophy. All unread email appears on top, and previously read email sits underneath in reverse-chronological order. 
You can also choose to "reply now" or "reply later" to incoming messages, which in turn aggregates a list of emails that require a reply. HEY calls this your "focus and reply" view. 
Also contrary to Superhuman, HEY automatically disables read receipts (like we said – they keep your email sacred.)
Overall, it's a much more accessible and "opinionated" way to approach a modernized email. 
If You Want To Minimize Interruptions
We'll conclude with tools that were designed to help you prevent unwanted distractions caused by your email. 
Mailman: Receive Email On Your Terms
What Does It Do?
Mailman is an email assistant (used by Google themselves, according to their website) that is designed to shield you from lower priority emails and minimize interruptions. 
What Can It Be Used With?
Mailman works with Gmail and any email client that uses Gmail. 
What Does It Cost?
Mailman costs $8/mo and allows you to: 
Snooze your inbox
Create a custom delivery schedule
Create a custom Do Not Disturb period
Designate VIP lists
Unlimited blocking
Be used in multiple inboxes
How Does It Work?
Mailman lets you preset "Do Not Disturb" times and delivery slots that determine when you receive emails. 
The software blocks emails from any unknown senders throughout the day. It then sends you a "digest" of blocked emails that you can choose how you want treated in the future. 
Finally, you preselect a VIP list that bypasses all Mailman's filters, so the only email notifications you receive throughout the day are predetermined by you to be important. 
Unroll.me: Easily Unsubscribe From Unwanted Emails
What Does It Do?
Unroll.me visualizes every subscription you have ever signed up for, and allows you to unsubscribe with one click or combine subscriptions into a single email. 
What Can It Be Used With?
It can be used with any email application. 
What Does It Cost?
Unroll.me is a free service. 
How Does It Work?
When you sign up with Unroll.me, it will aggregate a list of every subscription you've ever signed up for. With one click of your mouse, you can unsubscribe from any emails you no longer want to receive. 
You can also combine newsletters into a "rollup" – a customized aggregate of subscriptions in one email instead of several. 
The True Cost of Added Software
If you are feeling overwhelmed by your inbox, adding on more software that requires ongoing maintenance and management might not be the solution you think it will be.
You might find that you create even more work for yourself by signing up for too many add-ons without first addressing what is causing your overwhelm in the first place.
It could be that the best solution for your inbox overwhelm is to bring on another person to help you manage your inbox with the tools that exist in Gmail already, or who can manage the add-ons you have or want. 
Our inbox managers have solved all of the problems we listed above, and then some, for business owners and organizations alike. Before you pay for additional software that's more to manage, schedule a discovery call to learn if an inbox manager might meet your needs first.
Click here to book a time.