You're reading this because you're successful.
The by-product of that success is a whole lot of incoming communication flowing at you ever day demanding your attention.
Your customers have questions, your potential customers have questions, social media followers have questions, and it seems like the world wants a piece of you.
You're also reading this because you've decided to do something about it. You want to hand over your customer service to someone else, to let them deal with all the messages, while you get back to what matters most.
You Know When It's Time To Make This Change
When you begin to feel a shift in your capacity to manage customer service requests, outsourcing something as critical as customer service is a wise idea. 
But there is definitely not a one-size-fits-all solution, and deciding how, and who to outsource to, should be a carefully managed process. 
Customer service is a crucial component of what our Inbox Managers here at InboxDone.com do for clients, and they generally become autonomous in this role after only 30 days.
In this guide, we have drawn upon our team's expertise to compile everything you need to know about outsourcing your customer service, including: 
Why you should tread carefully when appointing an individual to represent your company in the customer service role (especially during times when your customers are most frustrated)
Customer service trends based on consumer preference that should drive how you proceed with your outsourcing process
The customer service channels that exist, and how to determine which are the best channels to communicate with given your business
The soft skills to look for in an outsourced customer service representative
Where and how to start handing over customer service to someone else 
We'll start by discussing the gravity of the role you're about to outsource...
What's The Value Of Good Customer Service?
It might seem easy to find someone to be the voice in response to an email, or on a live chat or a client phone call. You might be able to find a human being who can communicate, but there is no guarantee they will represent your company and your products well.
Sometimes, hiring is the easy part. Whether or not that individual will align with your values is more difficult. (We talk more about this here in our guide on hiring a virtual assistant.)
But, does that impression really matter, as long as replies are sent?
A better way to view this question is:
What is the cost of bad customer service? 
The cost of bad customer service is colossal. 
As you begin to conceptualize what your customer service might look like, keep in mind that price and product are not the only things consumers consider when making a purchase, and staying loyal to a vendor or brand.
PwC conducted a compelling study based on this theory. They were proven to be correct. 
The study was named "Experience is everything. Get it right."
When asked what mattered about their experience as a customer, nearly 80% of American consumers reported the following as most important: 
Speed
Convenience
Knowledgeable help
Friendly service 
The survey went on to uncover that an astounding 59% of customers would walk away from a brand they love after several bad experiences. 17% would walk away after just one bad experience.
So, yes, your customer wants a response. But they also want that response to be knowledgeable, friendly and efficient. An interaction with an individual who does not possess those qualities could lose you that client's business for good. 
On the flip side: What is the reward of a positive customer service experience?
According to PwC, customers are willing to pay more for the experience qualities that matter most to them.
43% of consumers said they would pay more for greater convenience
42% would pay more for a friendly, welcoming experience 
65% of U.S. customers find a positive experience with a brand to be more influential than great advertising
It makes sense. Consumers are smart. They know that their time is valuable and they want their companies they buy from to be mindful of that too. They won't stay on the phone for hours, or send emails that go unanswered, when they know there are plenty of other options when they need something. 
So, we've established that you should take this process seriously. Now, let's discuss the customer service trends that should drive your recruitment process... 
What Are Some Customer Service Trends To Be Aware Of?
Customer service has made an almost complete circle. 
First, call centers with live operators appeared in the 1960s. Then came Interactive Voice Response software (the thing that you yell "Representative!" to a few times before it understands you correctly.) 
Next, consumers turned to social media to tweet, chat and DM their positive and negative customer service experiences. 
Most recently, AI chatbots have resumed the role of customer service representatives. 
Every advancement has been made in pursuit of a more efficient consumer experience, but this doesn't always land well. Here's an example of why: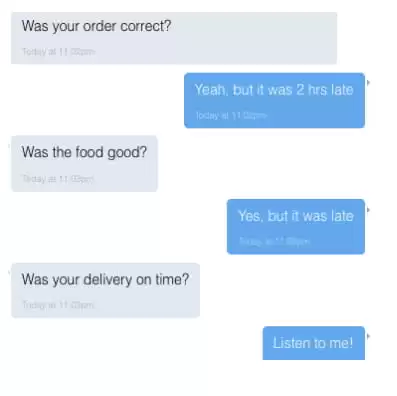 Imagine being on the receiving end of an interaction like this, knowing it's AI, with a problem that requires the response of a real person.
This brings us full circle:
Consumers now want to be heard and responded to by a person who understands their needs and concerns.
The three main trends in customer service reflect this need. 
TREND 1: Listen And Act On Customer Feedback
You built a product or service that you are proud of - as you should be. You have loyal customers who rely on your product or service to make their life easier. But sometimes, the end user has a perspective on your product or service that you simply don't. 
When your customers offer feedback on your product or service, the best way to retain this customer is to listen closely, then act. 
Here is an example of the trend in practice. 
Thirty minutes after Twitter user and presumed Tesla customer Paul Franks raised an issue with Tesla cars to Tesla founder Elon Musk, he replied with a promise to fix it in the next software update.
Do you think Paul Franks will ever leave Tesla as a customer? 
Find a way to collect customer feedback in a way that is manageable for you. 
TREND 2: Personalize, Personalize, Personalize!
It's understandably frustrating to deal with an uninterested and robotic customer service representative.
There are a few different ways to personalize the customer service experience: 
Introduce yourself
Use the customer's name
If you're chatting virtually, include your picture
Have access to the customer's history with your product or service
Ask for feedback on every customer service experience
Be sure that whoever you outsource your customer service to is making the experience as personalized as possible. When a customer doesn't need to spend ten minutes explaining their entire history with your company, that's going to stand out as a unique - and speedy - customer service experience.
TREND 3: Omnichannel - Be Where Your Customers Are
Omnichannel is the buzzword of the moment, and this is because brands must cater to different demographics, and different demographics are on different platforms. 
Perhaps a better word might be Opti-channel: Give your customers the optimum experience by making yourself accessible wherever your customer's prefer to access you. 
A non-exhaustive list of channels include social media, email, phone and instant messaging. 
In the next section, we'll discuss how you can evaluate which channels to invest in, and how. 
What Customer Service Channels Should You Use?
One important aspect of delivering a great customer experience is meeting customers where they are, and when they communicate. As we mentioned, omnichannel customer service plays a role here.
Observe your customer service trends and you should get an idea of where your customers prefer to ask questions. 
Here are channels worth considering: 
Channel 1: The Phone
Many business owners choose to give their customers access to them by phone, which can be manageable at the start, but can become overwhelming as your business grows. 
The most frustrated customer might prefer to sort out their problem over the phone, and sometimes it's the easiest way to talk a customer through a problem. 
What You'll Need
Because you're ready to outsource, this method will require a landline or business phone. You can also purchase a softphone that won't require any hardware.
Softphones are essentially software-based phones. They mimic desk phones by presenting a phone interface on the computer, complete with a dialpad and call handling features (such as Mute, Hold, and Transfer). But since they operate on a computer, they are much more powerful than desk phones. Softphones additionally offer video calling and conferencing, visual voicemail management, chat and SMS capabilities, and more.
Softphones are available for all different devices and platforms. There are desktop applications that run on Mac and Windows computers, laptops, and tablets, web-based versions that are accessible in the browser, and mobile apps for iOS and Android devices.
Bria offers a suite of VoIP products, including a softphone, that are easy to install and will likely integrate with any additional applications you have in place. 
This will be an added cost no matter what, but if the majority of your customers prefer to talk through their problems over the phone, it's one you'll need to make. 
Channel 2: Helpdesk 
A helpdesk (software) will organize your customer's requests in a relatively non-intrusive way, often via tickets. Most are easy to use and easy to train someone on. It works like a mailbox, but has additional features designed to make customer support easier.
In a helpdesk, a ticket is a message displayed in a convenient feed that shows you more than just the content of the messages. There are customer details on the right and ticket history in the feed. 
What You'll Need
Here at InboxDone.com, when we onboard clients who want to implement a helpdesk solution for their customer service requests, we recommend LiveChat (which includes helpdesk software - not to be confused with live chat, which we'll discuss in the next section.) Another popular option is Zendesk.
One thing to be careful before choosing to use a helpdesk is to ask yourself whether you need it. Many smaller companies can function fine just with email instead of a heldpesk. For the customer experience, a reply from a helpdesk looks just the same as a reply from an email account -- they both go back to the customers email inbox.
Where the helpdesk can help is when your team grows or the volume of support requires more organization than what you can do via email. A helpdesk helps your team collaborate, plus since they are built specifically for support, include many additional features like feedback surveys, reporting, triage labelling, customer history and often integrate additional channels like voice and live chat. 
Channel 3: Live Chat
Live chat allows customers to interact with you on their terms. It will typically look like the image to the left, embedded anywhere on your website, that customers can use to chat with you at any time. We have live chat on InboxDone.com as well.
The chat window embedded on your website is what differentiates live chat from a social media chat (which we'll discuss in the next section.)
Acquire found that 63% of consumers reported "more likely to return to a website" that offers live chat. It's convenient and quick, and once it's in place, it's easy to outsource.
What You'll Need
Live chat is easy to install, typically requiring a few lines of code added to your website, and then you can interact via an online control panel on your computer or an app on your phone provided by the live chat vendor.
Entry point pricing for live chat usually starts at around $15 per month, with an increasing number of providers offering completely free plans (freemium) with reduced functionality.
If you'd like to start with a free tool, Chaport allows one agent at no cost. 
The free plan has all of Chaport's essential features including:
Use on unlimited websites with unlimited chats
30-day chat history
Widget customization
Basic reporting and analytics
Web, desktop, and mobile apps
Aptly named, the LiveChat.com service is a common route small businesses take when getting started adding live chat to your website. It will likely integrate with your CRM too (if you have one.) 
Currently, there are over 170+ integrations including:
BigCommerce
Woocommerce
Shopify
WordPress
MailChimp (plus other email platforms)
Keep in mind that your live chat will exist on your website 24/7/365. Your customer service representative may not be available at all hours. Some live chat applications allow you to temporarily disable the live chat window during certain hours. Some can push an auto-response that a representative will respond during a set time window.
Channel 4: Social Media 
Statista reported that 47% of US consumers have a more favorable view of brands who respond to customer service questions or complaints on social media.
This aligns with the transparency that consumers seek from the brands they work with - there is nowhere you have the potential to be exposed more so than on social media. 
What You'll Need
Message management: Each platform has it's own direct message inbox. You'll need a dedicated manager to keep an eye on incoming messages via each platform (mainly Facebook, Twitter and Instagram) to make sure no angry or upset customer is ignored. 
Systematization: Keep track of the information that comes in through social media (Happy customers? Angry customers?) and adjust your social media presence or the product itself to these trends.
Channel 5: Email
According to Super Office, email wins hand-down as being the most effective strategy for customer retention with 56% effectiveness, compared to 37% retention effectiveness with social media.
38% of consumers prefer communicating online or via email about simple customer service issues.
This is likely because email is familiar and secure.
If you are still deciding how to build out your customer service, email is a great place to start. 
What Should Your Initial Customer Service "Department" Look Like?
Given our company is all about providing a human being ready to deliver great customer service to our client's customers, we thought it would make sense to explain what we look for, and train for, to become a great outsourced customer service solution.
If you undertake the outsourcing process yourself, make sure you look for these qualities or train them into the person you hire to take over customer service in your company.
The Right Customer Service Representative Will...
Let You Lead (At First)
You might find someone with 30 years of customer service experience whose approach is the complete opposite to your brand voice. You might feel comfortable passing off the role purely due to their years of experience, but this can have a profoundly negative impact on the way your customers interact with your business and your product. 
The right hire will bring exceptional people skills, but, they should also look to your procedures and brand voice to approach initial conversations. They should study the way you deescalate complaints and answer frequently asked questions. They should ask a lot of questions about the most common customer service requests you receive.
No one knows your customers better than you. The right hire will understand and act upon that baseline of knowledge. 
Understand The Difference Between Reactive And Proactive Service
Reactive customer service is typical: a question comes in and your rep knows the answer, and answers it. Now your customer has their answer and that's all they need. 
A more advanced grasp on customer service, and what our Inbox Managers practice, is proactive customer service: Focusing on the relationship with the consumer with a higher level understanding of what one customer means for your entire business. 
Each customer service inquiry gives you insight into your business. The right customer service representative will often pay for themselves by retaining existing clients and often, even acquiring new clients. 
Ask Good Questions
We train our Inbox Managers on how to ask questions. This is because we are all about relationships. One of the best ways to make someone feel heard is to ask them questions about their experience - whether it's positive or negative. 
Genuinely asking: "Are there any additional concerns you have that are stopping you from moving forward with your task?" can be music to your customer's ears. 
Be As Relationship-Centered As Possible
Good customer service should be as relationship-centered as possible. Many consumers have become so jaded by poor customer service experiences that they are skeptical of AI when they get a real person via chat or email. 
Once a consumer realizes your representative is real and cares about their problem, their perspective on your business could completely change. 
Start By Outsourcing Email Customer Service First
While you might think you absolutely must have a helpdesk platform and live chat, chances are most of the customer service queries you get right now are in your email and social media inboxes.
It makes sense to start by outsourcing these first, then you can expand from there, having your email customer service manager handle a helpdesk and possibly live chat as well. First though, make sure you have a great person handling email and social messaging.
The most common customer support requests we see come through are: 
Password retrieval
Setting up a new password
Trouble logging in
Technical assistance
Setting up a profile
We also see our clients face these common questions via email:
Do you offer free shipping?
What is your return/refund policy?
I want a refund!
My package hasn't arrived yet
When are you going to add the feature I want?
You're probably dealing with these or similar questions yourself right now. 
It may be helpful to review your current inbound message flow, and ask yourself the following questions:
Should you be the person answering these questions?
Is it the highest use of your time?
What would you be doing instead if you were not the person in charge of customer support?
How much extra income could you generate if you were not doing customer support?
Is it realistic that someone who went through a training process could provide customer service as good, or even better, than you do now?
Grow Your Team And Support More Channels
Bringing in additional clients may not necessarily grow your business if you cannot retain them. 
Happy customers are returning customers, and an established customer service channel is your best customer retention strategy. 
It's a beautiful cycle - when you hand off customer service to one person, you'll spend more time growing your business. Then, your customer service department will retain the new clients you bring in, and your business will continue to grow. 
As a result of this, you'll find you need to support more customer service channels.
Your first hire is the most critical - they will become the gatekeeper of all the customer service knowledge inside your head, and train all your additional hires. 
As your customer service team grows, your ability to be available 24/7/365  (without the risk of burnout) does too. 
It's not just millennials and "zoomers" who prefer digital options to communicate. Older generational preference leans towards multi-channel customer service capability. You need to be able to meet your customers wherever they are, however they want to get in touch with you, in order to grow.
As your customer service department grows, here are some things to keep in mind: 
Establish the customer service metrics that matter to you 
Create SOPs (Standard Operating Procedure - a document to guide others) to keep information and templates organized
Master the tools you already have before you purchase new ones
Start With One Person 
If you're feeling overwhelmed by all the questions, comments and customer service queries flowing at you, one of the smartest things you can do is to hire help. 
Start with one person who is reliable, trustworthy and emotionally intelligent.
If possible, we also recommend starting with one platform - email - and expand from there as you feel confident in your team.
If you would like to bypass the recruiting, vetting and training phases of your outsourcing, you can apply to partner with one of our Inbox Managers by booking a call here.
Our Inbox Managers are trusted by clients in various industries to handle customer service requests with care and diligence. 
Our team is familiar with most helpdesk platforms, and also have the capacity to handle the entire helpdesk setup process for you when the times comes for you to grow beyond email. 
Customer service has quickly become the hallmark of a good company, and outsourcing this role can help you maintain excellent standards while focusing more of your time on growing your business. 
Emily